I found this pizza recipe over at the Live for Pizza blog. I want to thank Tim for allowing me to use his Bacon and Egg Breakfast Pizza recipe right here on PizzaSpotz.com.
If you decide to use the following pizza recipe, please leave a comment below and tell us how it turned out.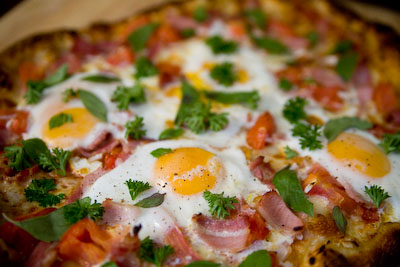 This recipe allows for topping 2 small pizzas or one very large pizza.

Bacon and Egg Pizza

1/2 a Brown Onion, diced finely
1 ripe Tomato, coarsely diced
3 Rashers of bacon, torn into manageable pieces
Fresh herbs to garnish
4-6 Free range eggs
Pizza sauce
Mozzarella
1 Quantity dough of choice
Olive oil
Salt & Pepper


.

Shape the base, and place on a floured peel. In a bowl, sprinkle the tomato with a little salt. Place the pieces in a sieve and allow to drain. This will remove some moisture from the tomatoes and give them a little flavour kick as well. Drizzle olive oil over the base, then add tomato sauce followed by a thin scattering of mozarella.

Scatter the onion and tomato over the base. Add a little more cheese, then the bacon pieces.

At this point you need to make a decision about when to add the eggs, based on how well you want them done. I cooke my pizza in a wood fired oven for a minute before I poured on the eggs. This resulted in quite a runny yolk which was great to dip pieces of the crust into. If you are cooking in an indoors oven with a pizza stone, allow a few minutes for the eggs to cook to runny or put them on at the start if you like well done.

When adding eggs, you can choose to beat them in advance or pour them on whole. Whichever approach you take, have all of your eggs cracked and ready so you can get them on quickly and the pizza back in the oven. If using whole eggs, think about the position so that you can give guests an egg on every slice. The next improvement I will be making to this recipe will be to use large egg rings on the pizza – it is quite hard to get them to land where you want! I think egg rings will allow a little white to leak out around the edges and look nice, but hold the eggs roughly where I want them.

Once cooked, scatter with some fresh herbs. It's hard to go past parsley for a classic egg pairing; I used basil from my garden as well. A final note – you could easily make mini pizzas following this approach, and I bet kids would love having their own breakfast pizza with an egg in the middle!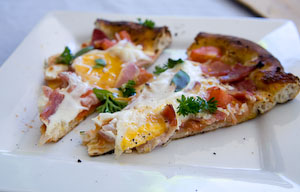 Click here to see the original Bacon and Pizza Recipe blog post. Click here to visit our facebook page and share photos of your own homemade pizza.
.
Other Pizzaspotz Posts You Might Enjoy: