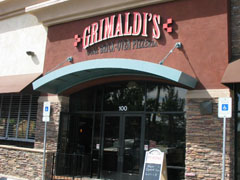 Grimaldi's is famous for it's award winning pizza recently announced the spring opening of its newest location in Las Vegas, Nevada. This new location is inside the Palazzo. If you need specific directions, walk in the entrance and take the elevator to the second floor. You'll find a sparkling new Grimaldi's with 4000 feet of seating space, enough for 150 customers.
"Our team searches the country for the best restaurant sites, and we're excited about opening our sixth location in Nevada," said Joey Ciolli, president and chief executive officer of Grimaldi's Pizzeria. "We see a lot of opportunity on the Vegas strip and we are excited to be a part of the Palazzo property. Guests will feel comfortable, enjoying our coal-fired brick oven pizza, all at a great price."
He didn't say so, but I'm sure Joey Ciolli would agree with what the PizzaSpotz.com staff believes about this new location, that no one is taking a gamble when they leave the pit and go upstairs for a pizza at Grimaldi's. A pie or calzone is a sure bet, even before they place their order.
At the present time, Grimaldi's Pizzeria operates one other store on the Vegas strip and three others in the Las Vegas community. Grimaldi's plans to continue their expansion across the country in 2012. The states you can now find a Grimaldi's Pizzeria are Texas, Florida, Arizona, Nevada and we'd be remiss if we didn't mention the state of New York and its flagship stores in New York City.
Grimaldi's is an institution that has earned more awards than any other pizzeria in the country with more celebrity sightings than most 5-star restaurants. Grimaldi's is definitely something to write home about or email their website about. Just go to Grimaldispizzeria.com and check out what people are saying. You can even leave your say.
Each Grimaldi's has a coal-fired oven designed and built by hand. It weighs 25 tons and heated by 100 pounds of coal each day. And yes, Grimaldi's is environmentally friendly by using only cleanest burning coal which is much cleaner than wood burning or gas fired ovens.
Something we just recently learned about Grimaldi's is how important water is in the making of their dough. They beleive the water used in their Brooklyn location is key to the success of their dough. This is so very important that Grimaldi's even hired a chemist to analyze and recreate the mineral content and exact composition of the water used in Nevada. No one wants to taste one type of Grimaldi's pizza in Brooklyn and an entirely different Grimaldi's pizza in Nevada. And to think, a chemist helps ensure the taste is the same in the east, as it is in the west.
.
Other Pizzaspotz Posts You Might Enjoy:
Comments
comments