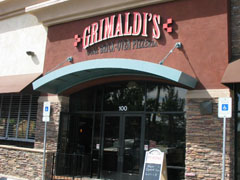 Oh my! The PizzaSpotz.com staff is happy. There's a new Grimaldi's Pizzeria coming soon to Grapevine, Texas. From our office, that's about 8 miles. They've decided to locate the newest Grimaldi's Texas location in a wonderful city which has a small town feel. If you ever come visit the Dallas area, fly into DFW Airport and head north to Grapevine.
Grimaldi's will fit right in with their traditional style of pizza making. A brick oven in a town full of old brick buildings and this new location will have plenty of room for hand tossed pizza enthusiasts. The new location will be nearly 3000 feet and hold over 120 customers.
If a Texan can't get to Brooklyn, the next best thing will be visiting the new Grimaldi's Pizzeria in Grapevine.
.
Other Pizzaspotz Posts You Might Enjoy:
Comments
comments