Description: Pompo Bresciani is an amazing photographer but he also makes some great pizza, check out his recipes here.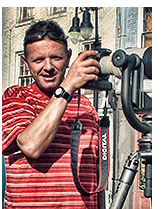 I was browsing for pizza recipes one night and came across the ones you'll see below. Basically, this is one recipe but with variations on the toppings. They look so delicious. And of course, they should look delicious when one of the best photographers in the world took the pictures, he's also the one who cooked these pizzas. Allow me to introduce Alfonso "Pompo" Bresciani. You may like this pizza recipe (original found here) but you'll also love his photography. Below are some links to his photography. Enjoy, drop him a note and tell Pompo that the crew at PizzaSpotz sent you his way.
Whether you need a headshot or portraits taken in the French Quarter in New Orleans or you're looking for fine art to fill just the right space in your office or home, Pompo can shoot or has shot just the right photo for you. Here are a few of his websites:
Try these Pompo Bresciani Pizza Recipes Tonight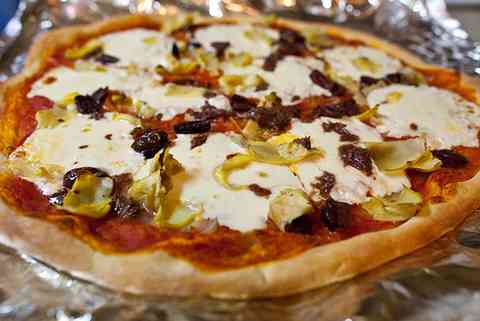 Why you may ask, are you having a pizza recipe on a photo blog?!? Well, first of all, I'm straight Italian and sick~n~tired of eating "chewing gum pizza". Beside that, if you are into photography, chances are you might like cooking as well, since it is  a form of art. So here we go…all aboard and get ready to make your very first homemade pizza, save some money and  brag about it too!
Ingredients for two large pizza about 15-16 inches wide:
(you should really have a 16″ round pizza stone
)
3 1/4 cups of unbleached bread flour is BEST (not self rising of course), Italian Bertolli Extra Virgin Olive Oil
 (if you don't find unbleached bread flour use just unbleached, I use and *LOVE*King Arthur unbleached bread flour
). Otherwise plain bread flour will work too.
2 table spoons of extra virgin olive oil
2 teaspoons of fine salt (best if evaporated from sea water) otherwise regular salt would do it
1 bag of active dry yeast (1/4 OZ.-7 grams)
1 pound (450 grams) of mozzarella (better if "Mozzarella Di Bufala In Water
" my favorite is Whole Foods mozzarella called Ovaline, yes it comes in water) or provolone cheese sliced or chopped, otherwise try to find whole mozzarella, NOT SKIM, "Bel Gioioso" brand is fine and VERY GOOdtoo. Do not buy any hard blocks of mozzarella or you gonna be wasting your time, it has to be very soft !
1 can of Plain Hunt's tomato sauce (15 OZ.- 425 grams)
Buy the "plainest" sauce you can find! Look at the ingredients label, all you really need is plain tomato sauce! The less ingredients in there the better the taste!
Preparation:
Put the yeast in a small bowl and add 1 and 1/4 cup of very warm water (better if bottled water!- about 110 F), mix up and let sit for about 3 minutes. Put the flour in a large bowl and add the 2 teaspoons of salt and the extra virgin olive oil in there and mix.
Add all the water with the yeast slowly in the big bowl with the flour while mixing with a wooden spoon and add the tablespoon of extra virgin olive oil at the end. After added all the water feel free to add more if you think it needs it…or if it's too soft add a couple of spoons of flour til the right consistency.
When the dough gets…well looks like a dough, spread a little flour on a large cutting board and Knead for 6 to 8 minutes, until you have made a smooth and soft dough. Cut the dough in half an make two balls.
Put the dough in two lightly greased bowls with olive oil so it won't stick.
Cover the bowls with thin foil and put in warm (…quiet…place..SHHHhhhh) microwave or oven (OFF of course!)…not in the refrigerator. Let sit for 1 and 1/2 hours at least.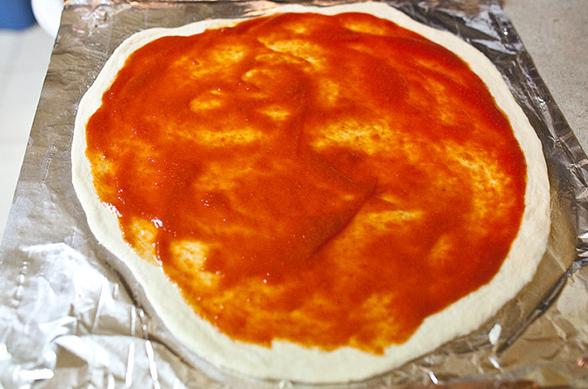 (I actually came to conclusion, after a few tests that the amount of sauce above is a bit too much. It should be as you see it in the lighter spots). After spreading the sauce I drizzle about 2 tablespoons of extra virgin olive oil on it and bake at 450F for 7 minutes. Note How the pizza is not round…Who cares! It looks even more gourmet :)
Baking it:
Preheat the oven at 450 F (232 C) with the pizza cooking stone in there.
Sprinkle a tiny bit of white flour on a wide piece of tin foil about 18×22 inches wide (so you can grab the pizza later on and won't get stuck) and put a ball of dough on it. Spread it with your hands and/or roller until you get a disc about 15-16 inches wide, about 1/8 of an inch thick.
Put about 3-4 large cooking spoons of tomato sauce on it and spread…( American pizza has way TOO MUCH SAUCE!) and drizzle all over a tiny bit of extra virgin olive oli. Grab the thin foil (you may need somebody to help you, since you don't want the thing to fold over! To prevent the thin foil from folding over hold the ends of it tight, don't give no slack) and place it right on the hot stone and cook for 7 minutes at 450F.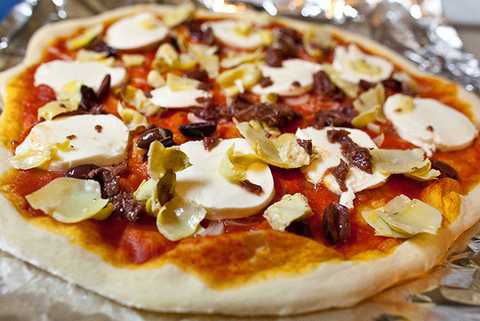 Here above I got the pizza with the sauce only (and olive oil) out and added the mozzarella, plus some marinated artichokes, kalamata olives and anchovies…YUM! :) Then put in oven again for another ten minutes at 450F
Take the pizza out and spread 1/2 pound of mozzarella (or less:) on it, and other toppings you may like, ( While the pizza is out do not forget to close the oven so temperature don't drop) and put back on the stone and cook for another 10 minutes; when one minute is left set the oven to broil – HIGH so the mozzarella gets some nice darker brownish spots.
Once the pizza is done garnish with a few leaves of fresh basil if you have the luxury of having  it in you herb garden.
To separate the pizza from the tin foil, place the pizza on the counter, let it stick out about 25% and pulling the thin foil down keep on rotating the pizza until separated from foil.
This pizza has anchovies, salame, citterio and abruzzese YUM!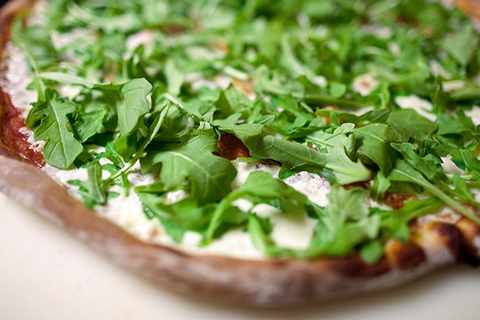 Just made this pizza with fresh rucola…YUM! (Arugula in US)
If you collect great pizza recipes, we hope you'll add this one from photographer Pompo Bresciani. Once you try it, please leave a comment and a rating below. And don't forget to visit Pompo online at BakedBree.com
.
Other Pizzaspotz Posts You Might Enjoy:
Comments
comments