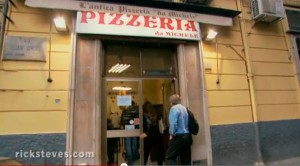 When you travel to Naples, Italy, and every pizza lover should, do not miss out on visiting L'Antica Pizzeria da Michele. It is known by some as the birthplace of pizza.
L'Antica Pizzeria da Michele serves only two kinds of pizza. As most Italians understand, there are only two types of Neapolitan Pizza, the "Marinara" and the "Margherita." The "Marinara" style pizza has only tomato sauce, oregano and garlic. The "Margherita" style pizza which was named after the first Italian queen. Notice the color of its ingredients, red tomato sauce, white mozzarella cheese and to top it off, green basil.
The history of L'Antica Pizzeria da Michele goes back to 1870 when the Condurro family began making pizza. It wasn't until 1906 when Michele Condurro opened L'Antica Pizzeria. It was located on the spot where the Ascalesi Hospital currently stands. It was in 1930 when L'Antica Pizzeria da Michele moved to its current location in Via Cesare Sersale.
If you want to visit L'antica Pizzeria da Michele without actually flying to Naples, you can visit their website. Thankfully, the website is in Italian, English and Japanese. Enjoy your experience in Naples and thank you Mr. Rick Steeves for allowing our visitors to take a peek into the ultimate travel experience for pizza lovers. Please visit Rick at RickSteeves.com.
Warning: Travelers are very prone to ID THEFT
Help Protect Yourself From ID Theft. Get help with LifeLock. Enroll Now
Other travel posts you'll enjoy
Seven Natural Wonders of Germany to Visit After Eating at an International Airport Pizzeria
Seven Natural Wonders of France to Visit After Eating at an International Airport Pizzeria
Top Ten Travel Destinations – Emiel's Pizza Box List
.
Other Pizzaspotz Posts You Might Enjoy:
Comments
comments