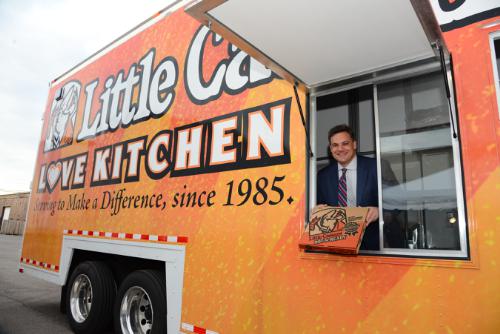 There's one thing I like about pizza chains and even mom and pop pizzerias, they all like to feed those who are less fortunate. For our PizzaSpotz.com Second Annual Veterans Day Pizza Giveaway we had Big Daddy's Pizza in Denver CO, DC's Pizza & Wings in Albany NY, Vito's Pizza in Irving TX and Jets Pizza in Bedford TX provide free pizza for veterans at their American Legion and VFW posts on Veterans Day. We commend them.
We also want to commend a big chain like Little Caesars who has consistently provide meals to the homeless over the past 30 years. In fact, they have provided over 3,000,000 meals to those who are less fortunate and without a home, displaced from a natural disaster or to those simply hungry and unable to buy their own food. They have done so with what they call the Little Caesars Love Kitchen, an 18 wheeler set up as a pizza kitchen.
Little Caesars has now doubled its capacity to feed the hungry and needy. They've ordered and received another Little Caesars Love Kitchen. They celebrated this new mobile pizza kitchen with a big pizza giveaway on Veterans Day in Detroit helping to serve vets at the Michigan Veterans Foundation.
Little Caesars President and CEO David Scrivano commented on the event and the new Little Caesers Love Kitchen, "As a family company, we're proud to help veterans and other families throughout the country, and the Little Caesars Love Kitchen is one way we do just that."
The company has stated that over 100,000 meals will be served to the hungry and needy in 2014 alone. This will be done by having the Little Caesars Love Kitchen and it's new twin visit over 200 cities all across the United States.
Kudos to Little Caesars for helping out those in need.
.
Other Pizzaspotz Posts You Might Enjoy:
Comments
comments