Written by Brian of PizzaSpotz
At PizzaSpotz, we're real big fans of great ideas and pizza marketing. I wish I'd seen the Little Ceaser's forbidden pizza website when it first appeared, but ten months later, it's still a great site to visit. Talk about great marketing, a year later and their website still gets lots of hits. But I'm warning you, don't you dare visit their site. You're asking for it if you do.
The Forbidden Pizza Website
How many of you are actually fans of Little Ceaser's? When I must have a $5.00 pizza, I always go to Little Ceaser's. It's cheap. It's edible. It's just what a pizza craving needs when I can't get to a real pizzeria.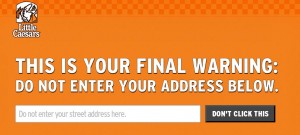 More than the pizza, I enjoy the way Little Ceaser's markets itself. The Little Ceaser's ads have been great for decades. Check out some of these from the 80s, 90s and 00's. The Little Ceaser's Forbidden Pizza Website is one more piece of their creative marketing puzzle. It debuted in 2012 and was created by the Barton F. Graf 9000 agency. The forbidden pizza website has a companion TV spot which warns people not to call Little Ceaser's at 1-800-TRY-LITTLE-C. See that ad here.
The forbidden pizza website goes a bit further with reverse psychology by asking visitors not to enter their email address in the box provided. But not before a few warnings not to do so. I find the site hilarious and a brilliant marketing idea. It's something that is sure to have customers visiting all year round and especially at Halloween.
Just be warned that PizzaSpotz.com does not endorse the Forbidden Pizza Website from Little Ceaser's. We warn you not to click here to visit it. Don't do it. And remember, you've been warned.
.
Other Pizzaspotz Posts You Might Enjoy:
Comments
comments