Description: Try out this amazing pepperoni pizza bread recipe from Tina of the Mommy's Kitchen blog. It tastes great!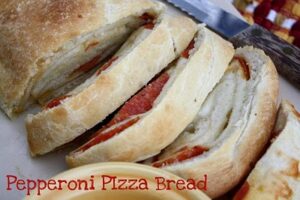 Not too long ago while searching for some great bread recipes, I discovered this recipe for pepperoni pizza bread. I came across this recipe from Tina Butler's Mommy's Kitchen Blog. This is a fun blog filled with oodles of great tasting recipes. If you're looking for a great cooking blog, please visit Mommy's Kitchen Blog.
Since you popped onto this page to find out how to make great tasting pepperoni pizza bread, let's get straight to the recipe from Tina. (see original recipe post here This pepperoni pizza bread recipe and photos are courtesy of Tina Butler)
Good Morning my friends. I was a bit under the weather the last couple days, but I think I am finally bouncing back. Now comes the fun of playing catch up on housework and blog posts.
Pizza is a big deal in our house. It's the one meal that everyone loves and it's so easy to make. I was browsing the Rhodes website and came across a recipe for pepperoni rolls. Well I wasn't in the mood to mess with all the pizza sauce and cutting up all the rolls.
My husband was out of town and the kids and I just wanted an easy dinner meal. I decided to make this recipe into a Pepperoni Pizza Bread instead.