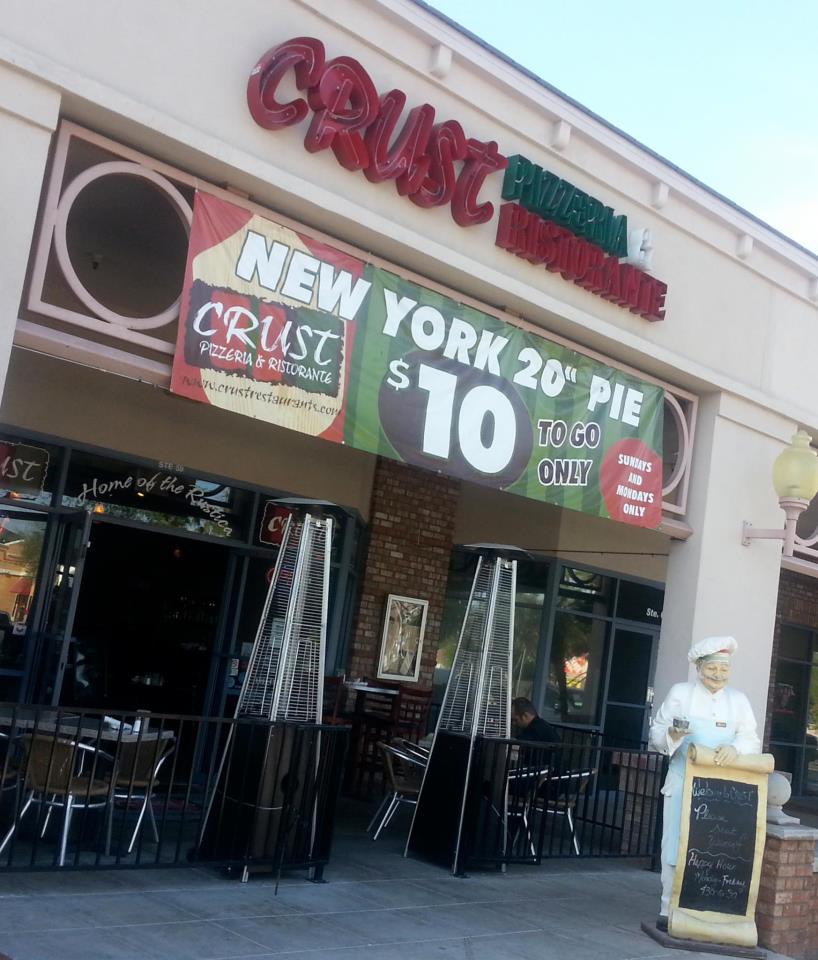 .
Description: Crust Restaurants in Phoenix and Scottsdale serve some of the best pizza found anywhere in Arizona. Check out the Pizza Rustica!
.
About Crust Restaurants
When you take three guys, two from New York and one from Jersey and stick them in Phoenix, one never knows what you'll get. Well, I know of three specific gentlemen who have been mixed together and providentially put in the Phoenix area. They have created one of the most fun places to eat pizza in the Phoenix and Scottsdale areas. They call their creation Crust Restaurants and that includes the Crust Pizza & WineCafe in Scottsdale and Crust Pizzeria & Ristorante in North Phoenix. Two other locations are event based and they are Crust Pizza at the convention center and Crust Pizza at Salt River Fields on game days, nights and for special events. People love each of these Crust locations.
Mike (Long Island), Ryan (Jersey), and Duke (Manhattan) have made famous the uniquely shaped Pizza Rustica. The Pizza Rustica looks a bit different, sort of like a T-bone steak with garnishments, but it's really pizza, really good pizza too. If you're looking for a fun place to eat good food with your family or with a date, check out Crust in Scottsdale or North Phoenix.
Visit Crust Restaurants Online
Visit the Crust Restaurants Website

— >

Click Here

Follow on Twitter

Like on Facebook
.
Did you know?
Crust caters and you can find out more info on their catering by clicking here.
You can get Crust updates sent to your phone by texting "Crust" to 91944.
Crust Restaurants are proud supporters of Kurt Warner's First Things First Foundation. (Good job guys)
More Crust Restaurants FAQs
What should I wear when visiting Crust? (Dress casual)
How much will eating here cost me? ($$)
Do they serve Alcohol? (Full Bar)
Does Crust Deliver? (No)
Wi-Fi Availability (Free)
Find Crust Restaurants
[mappress mapid="26″]
.
Phone & Hours
Scottsdale:480.948.3099
Mon-Sat 11am – 10pm
Sun 12pm to 9pm
North Phoenix: 602.494.1000
Mon – Thurs 11am – 9pm
Fri-Sat 11am – 930pm
Sun 4pm – 9pm
Phoenix (Convention Center): 602.261.8336
Mon-Fri 10am – 2pm (convention based)
Salt River Fields: 480.270.5000
Open game days and nights and special events
Eaten at Crust Restaurants? Leave a review in the comments section below. Thanks!
.
Other Pizzaspotz Posts You Might Enjoy:
Comments
comments