Compiled by Brian of PizzaSpotz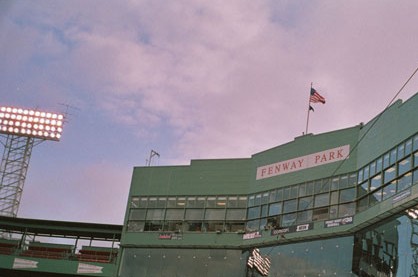 Photo by Tom Genovese
.
We've had a lot of success with our Pizza Jokes post and wanted to include some more jokes for your enjoyment here at PizzaSpotz. These aren't the greatest baseball jokes in the world. But feel free to use these jokes on your friends to make them giggle or possibly make them puke their pizza. If you like these jokes, we've found some other sources for great baseball humor. Check out Baseball Corny Jokes
and one of my favorites Joy In Mudville: The Big Book of Baseball Humor
. I hope you agree with me, there's nothing better than baseball humor.
Here is our list of top ten baseball jokes. Enjoy.
10) What has 18 legs and catches flies?
A baseball team.
9) Why was Cinderella such a terrible baseball player?
She had a pumpkin for a coach.
8) Why did they stop selling bottled soda at the double header?
Because the home team lost the opener.
7) Why does it take longer to run from 2nd base to 3rd base than from 1st base to 2nd base?
Because there is a short stop between 2nd and 3rd.
6) A rookie Cubs pitcher was struggling at the mound. The catcher called time out and walked over to him. "I figured out what your problem is," said the catcher. "You always lose your control at the same point in every game." The pitcher anxiously asked, "When do I lose my control?" The catcher smiled and said, "Right after the National Anthem."
5) A baseball player was sitting on the bench next to the manager. Suddenly, the
manager starts spouting out names of countries, "Germany, Italy, Spain, Britain." The player looks at him and says, "What are you trying to say Skipper?" to which the manager replied… "Europe!"
4) What do you get when you cross a big fat oak tree with a baseball player?
Babe Root.
3) Why don't matches play baseball?
Because one strike and they're OUUUUUUUUUTT!
2) What do you call a crab that plays baseball?
A pinch hitter.

Finally, you've arrived at number one on our top ten baseball jokes or stories to share with a friend over pizza. This is more of a short story than a pure baseball joke.
1) Two old men, Elmer and Carl had been best friends for years. They were both in their early 90′s when Elmer suddenly fell ill. Carl visited him on his deathbed. Carl said to his friend, "Elmer, when you die, do me a favor. Let me know if there's baseball in heaven."
Elmer said, "We've been friends for years, of course I'll let you know." And then he died.
A couple days later, Carl is sleeping when he hears his friend's voice.
The voice says, "Carl, I've got some good news and some bad news. The good news is that there is baseball in heaven."
"What's the bad news?" asked Carl.
"You're pitching on Wednesday."
We hope you've enjoyed our top ten baseball jokes. If you have one you'd like to share with our readers, please do so in the comments below. And when you leave your joke, also leave us your favorite baseball team. As for us here at PizzaSpotz, our favorite team is often a baseball joke, our favorite team is the Chicago Cubs : (
.
Other Pizzaspotz Posts You Might Enjoy: