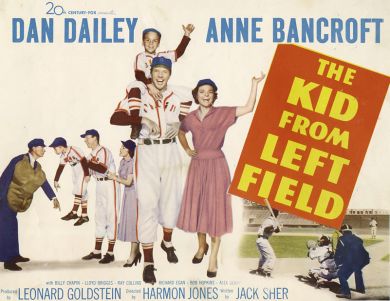 Years ago, on opening day of baseball season, AMC (American Movie Classics) used to play some of the best baseball movies. I'm not sure exactly how many baseball movies they played each opening day, but it was quite a few, possibly eight or ten. Here is our list of Top Ten Baseball Movies and in case you think we're missing some of the best baseball movies of all time such as Field of Dreams or The Natural, remember, this list of top ten baseball movies is made up of only black and white films, color films have their own list.
As with all of our lists, they all have the word pizza somewhere in the title. So go get some pizza while you watch any of these baseball movies.
10. Whistling in Brooklyn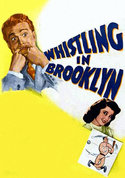 This is one of the better of Red Skelton's early movies. In this film he plays a detective named Wally and if you're wondering where the baseball comes in, it's in the form of his playing with the Brooklyn Dodgers. This movie may be more detective farce than baseball movie, but some scenes are absolutely hilarious for those of us who like corny humor.
Click for More Info on Whistling in Brooklyn
9. The Kid from Left Field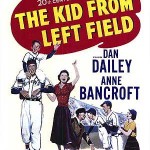 Some great stars from the 40s and 50s are in this film including Dan Dailey, Lloyd Bridges, Ray Collins, Fess Parker and Anne Bancroft. This is a true baseball movie and a great story about what happens when the best manager a team can have is the guy selling peanuts in the stands. This is an amazing movie and if you're a lover of baseball movies, you've probably already seen this, but it's worth another view.
For more info on The Kid From Left Field
8. The Babe Ruth Story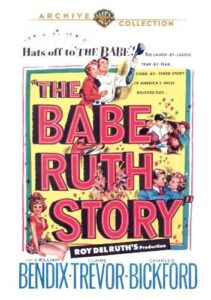 Many reviewers have said this is not the best of all baseball movies. They're right. While the story is good, there are some easily discovered goofs. The biggest are the sick little boy who Babe promised to hit a home run for in the World Series. The boy, Johnny Sylvester, was visited by Babe in his home in New Jersey, the movie shows this happening in Indiana. Another goof related to this is the called shot which happened in the 1932 World Series against the Chicago Cubs. The movie shows both of these events as happening in the same World Series. The promised home run actually happened in 1926. Despite these flaws and a few others, this is still one of the best baseball movies, because, after all, it's about baseball.
Click for more info on The Babe Ruth Story
7. The Winning Team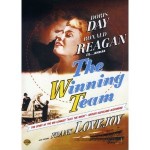 Ronald Reagan was an actor way before he was a politician and before becoming an actor he was a baseball announcer. He was a perfect choice for playing the lead role in the story of Hall of Fame pitcher Grover Cleveland Alexander. One of the most successful pitchers of all time, Grover Cleveland Alexander, or Pete as he was often called, finished his career with an amazing 373 wins. Baseball writers, at the time the film was released, did not love the movie as much as baseball fans did. Odds are, you will really enjoy Reagan and Doris Day in this movie.
Click for more info on The Winning Team
6. It Happens Every Spring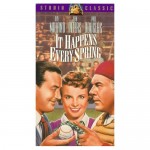 Ray Milland was not an actor who starred in zany comedies, but in this case, he made an exception. It's definitely zany to invent a substance which avoids wood. What a great substance to put on a baseball! When a professor invents this magical potion and applies it to the sport of baseball, the results are hilarious. Ray Miland and Jan Sterling are amazing in one of the best baseball movies ever, especially when it comes to funny baseball movies.
Click for more info on It Happens Every Spring
5. Angels in the Outfield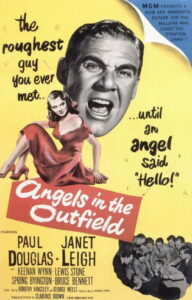 If you ever wondered what Barbara Billingsly did before Leave it to Beaver, you'll need to see this movie. She doesn't have a huge part, but a part nonetheless. In this film, a foul mouthed manager becomes the beneficiary of an orphan's prayer. For some reason she prays for the local baseball team and heavenly help is on it's way to his Pirates if he cleans up his act. This movie was so good that it had to be made twice. The 1994 version may be better to some, but this original is a great film without all of the special effects the Tony Danza version has.
Click for more info on Angels in the Outfield
.
4. Fear Strikes Out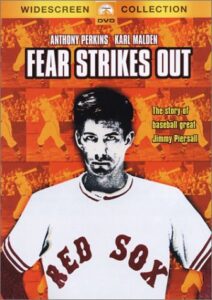 The first time I heard of Jimmy Piersall, he was an announcer for the Chicago White Sox. He was a great guy and awesome partner for broadcasting legend Harry Caray. But there was so much more to Jimmy Piersall that I ever knew. I had heard about this movie and while it's not typical like the other top ten baseball movies on our list, it does tell a compelling story. I would say this is The Great Santini meets The Natural but in black and white. This is a definite must for any baseball fan. I think it gives you a great well rounded view of baseball if all you know of the sport is what you see on film.
Click for more info on Fear Strikes Out
3. Rhubarb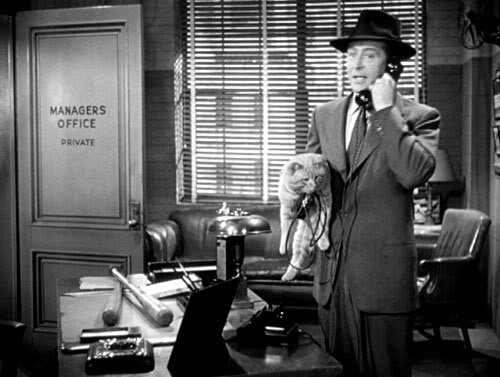 I wanted to make this number one on our top ten baseball movies list, but at least when it comes to comedic baseball movies, it is #1. Again, it was on AMC one opening day of baseball season when I watched this film. The premise is this, a rich man who owns a baseball team dies and leaves his fortune, including the team, to his cat named Rhubarb. The cat eventually turns into a good luck charm, helping the Pirates charge toward the championship until…. How's that for a cliffhanger?
Click for more info on Rhubarb
2. The Stratton Story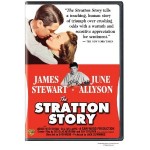 It seems like many great actors have starred in one of our top ten baseball movies. We have Jimmy Stewart here starring as Monty Stratton, a farm boy turned White Sox pitcher who had a decent career until a hunting accident caused his leg to be amputated. in the 1940s, Monty tried to comeback while playing semi-pro and minor league baseball. This story is one of the more encouraging in our top ten baseball movies list, maybe one of the most encouraging of all sports movies. I can't believe that Monty Stratton lived until 1982 and not too far from where I lived. I wish I could have met him.
Click for more info on The Stratton Story
And finally, number one on our list of best baseball movies of all time is ….
1. The Pride of the Yankees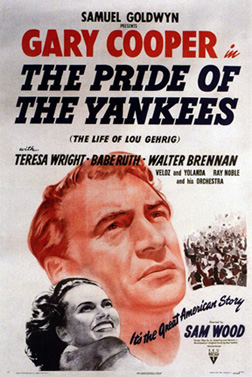 Probably the most popular of baseball movies, The Pride of the Yankees deserves to be number one on our Top Ten Baseball Movies list. Lou was not supposed to be a baseball player. He was going to be an engineer, that's what his immigrant parents wanted for him, a good career. But the talent that was Lou Gehrig was found on the Columbia University baseball team and the rest is history. All other baseball biopics are judged against the brilliance and authenticity of this film. I wouldn't be able to live with myself if I did not make this film #1 on our list of top ten baseball movies, especially since it was this movie that helped create in me a love for the game.
Click for more info on The Pride of the Yankees
Your Favorites?
There's no doubt that we've left off some of your favorite movies from this list. Please let our readers know your faves and maybe you'll turn our readers onto a classic baseball movie they haven't seen yet. Leave a comment below with your thoughts on our top ten baseball movies of all time. And don't forget to visit your local pizzeria. Eat up!
.
Other Pizzaspotz Posts You Might Enjoy: