Description: It doesn't really matter when you read these Bible stories, but doing so while eating pizza is a great combination.
We are a pizza site that will make a list about any topic. If you're not an avid Bible reader and have been wondering what are the top ten Bible stories in the Bible, grab a slice of pizza and snuggle up to this list. As you'll read below, it's amazing how God works and by reading the Bible stories below, you'll see what we mean.
(list written by Brian of PizzaSpotz)
Top Ten Bible Stories
10. David and Goliath
I Samuel Chapter 17 (listen to this story)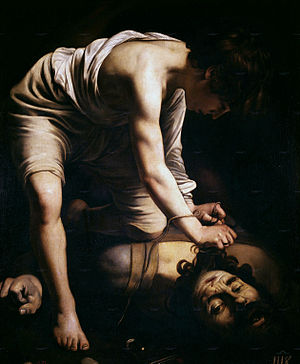 This is one of the greatest stories in the Bible. I think this Bible story is loved by so many because it takes the theme of the little guy vs. the big guy and shows that the little guy can win. It's not just hard work that can get the underdog to win. In this story, it's relying on God and having faith in him. Check it out at the link above.
9. The story of Jesus and the Woman at the Well
John 4:1-42 (listen to this story)
What makes this one of our top ten Bible stories is the fact it demonstrates that Jesus accepts everyone. It was known at this time, due to a deep prejudice on the part of Jews, that they had nothing to do with Samaritans. This story talks about the woman going to the well to get water at a time when no one else would be there. She was an absolute outcast in society. Yet, Jesus took time to not only drink the water she drew from the well, he talked with her, gave her dignity. This is a truly amazing story. It's an example of how many Christians today act, but unfortunately, the actions of some Christians whose actions are diametrically opposed to the acceptance shown by Jesus, are those actions most remembered by many.
8. Jonah and the Really Big Fish
Jonah Chapters 1-2 (listen to the story)
You might think we have the name of this Bible story wrong. You may think this should be about Jonah and a whale. But the Bible doesn't say anything about a whale in this story. It only speaks of a big fish. Nevertheless, it's a great Bible story. This story also deals with prejudice. You see, Jonah hated the people of Nineveh. However, God wanted to send him to preach to the people there so they may repent of their ways, so they too could be blessed by God. Instead of going to do what God said, Jonah fled. He ended up on a boat going the opposite direction and when that boat encountered stormy seas, Jonah asked to be thrown overboard, he was willing to die in order to protect the crew. Jonah was a caring man, he just didn't seem to care for those in Nineveh. Well, listen to the rest of the story (link above) to see what happens next. If you've never heard it, you'll enjoy it.