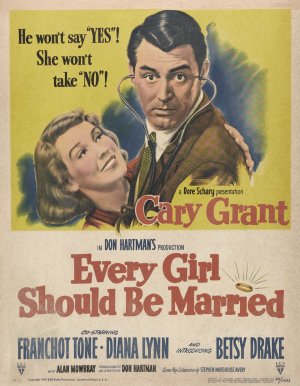 Pizza website disclaimer: Of course, you can eat anything while watching these films, not just pizza.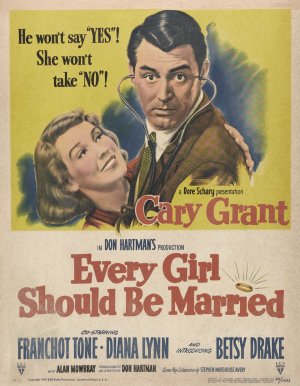 Some of the best movies ever are the classics you find on TMC, AMC or some independent local channel late at night. And some of the best classics are Cary Grant Movies. Here is the PizzaSpotz staff favorite Cary Grant Movies. As with all lists, they are subjective, we're a little partial to comedy, so the top two on our list are lesser known Cary Grant movies, but are a couple of his funniest.
Don't forget to add your favorites in the comment section and please share this list with those who may have never heard of Cary Grant. Those people do not know what they're missing, do they?
.
.
Top Ten Cary Grant Movies
10) Charade
This comedy thriller was a thrill to make for Cary Grant. After filming, he said he'd love to make another movie with Audrey Hepburn, in fact, it was all he wanted for Christmas. This film stars Audrey Hepburn whose husband dies after stealing a fortune. She's chased by husband's partners in crime because they know she must have the secret to its location. This suspenseful film might just having you ask, "Who can I trust?" Charade also stars Walter Matthau, James Coburn and George Kennedy.
9) Notorious
There's something about a great actor like Cary Grant that always helps his movies be the absolute best. That something is a great supporting cast. In the late 40s, there were many Nazi movies made. But this is one of the best because of the director (Alfred Hitchcock) and the supporting cast (Ingrid Bergman, Claude Rains). Basic plot, Nazi convicted of espionage has beautiful daughter, a spy (Grant) gets her to go to Brazil to flush out a Nazi from hiding, a friend of her father.
8 ) Suspicion
What if your spouse was planning to murder you? That's the basic plot of this Cary Grant movie. Swept off her feet by Cary Grant, Lina, played by Joan Fontaine, begins to suspect Grant is a killer after a friend of hers dies suddenly. A good Hitchcock film, but not his best, Suspicion is based on the novel BEFORE THE FACT by Frances Iles but doesn't exactly stick with the facts, especially the ending.
7) An Affair to Remember
Unless you're a die hard Cary Grant fan, you may not know that this film is a remake of a 1939 movie titled "Love Affair." This is one time you'll prefer the remake. This amazingly romantic film is the ultimate "Chick" flick. A man and a woman traveling back to New York from Europe aboard a luxury ocean liner fall in love and vow to meet at 5:00 p.m. at the top of the Empire State Building six months after docking in New York. You may know the rest. If not, watch it

.
Watch Trailer
6) To Catch a Thief
Another stunningly romantic Cary Grant movie, this one set in France stars Grace Kelly. In this film, Cary Grant plays "The Cat," a famous jewel thief who reformed during the war but years later is suspected of getting back into the cat burglary game. His mission after eluding arrest, to catch the copy cat thief and prove his innocence.
5) Penny Serenade
This film looks back at the years of marraige of Roger (Cary Grant) and Julie (Irene Dunne) through flashbacks beginning where their six year old adopted daughter dies of an illness. This is definitely the saddest film in our list. Grant was nominated for an Oscar for his role. The movie also features a young Edgar Buchanan (Uncle Joe from Petticoat Junction). Be prepared to cry while watching this one. If you are actually going to eat pizza during this film, don't drip tears on your slice.
4) His Girl Friday
This movie is "fall on your face" funny and is a must for anyone studying or just wanting to enjoy some great Cary Grant Movies. It stars Grant as a newspaper editor who doesn't want his ex-wife Rosalind Russel to leave the paper where she is one of the top reporters. He does everything he can to make sure she doesn't leave and marry a normal guy and live a normal 1940s life. Watch and see what happens.
3) North by Northwest
This is not only one of the best Cary Grant movies ever, it's one of the best Alfred Hitchcock movies ever. After teaming up for three previous films, Hitchcock and Grant made possibly their best film with North By Northwest. This is a thriller with a plot that may seem a bit unrealistic, but the settings, the action, the star, make this film amazing!
2) The Bachelor and the Bobby Soxer
Who would believe that Cary Grant would be the leading man in Shirley Temple's first grown up role? This movie works perfectly and Grant is not exactly her leading man, but a leading man she has a high school crush on. The scene near the end at the club is absolutely hilarious. So many great scenese and great supporting cast. The movie also features Myrna Loy, Rudy Vallee, Ray Collins and Lillian Randolph.
And number one in our Top Ten Cary Grant Movies list is….
1) Every Girl Should Be Married
This film is not only one of the funniest Cary Grant movies, but also the most romantic on a couple of different levels. This movie stars Cary Grant as the love interest of Betsy Drake. If you know your Cary Grant trivia, you'll know they were wed after the filiming of Every Girl Should Be Married. During the filming, the two were actually falling in love. The plot is basically the idea that women have to trick men into marrying them. Betsy Drake, who plays Anabel Sims, a saleswoman gets her heart set on trapping Dr. Madison Brown (Grant). Does she? Watch and find out. This is number one on our list because of the outstanding witty dialogue and due to the underlying "real" love that is evident on the screen.
What are your favorite Cary Grant movies?
Tell us below in the comments some of your favorite or just tell us what you like about the ones in our list. I think we should have made a Top 75 list instead, that way, we would have been able to list every Cary Grant movie.
.
Other Pizzaspotz Posts You Might Enjoy:
Comments
comments