Descriptiom: Christmas movies are fun to watch anytime of the year. Here's a list for you to enjoy at Christmas or whenever.
We had Leonardo, one of our Twitter friends, write up another holiday top ten movie list. This list is his take on Christmas movies. Enjoy the list and don't forget to leave one of your own in the comments below.
Thanks,
Brian from PizzaSpotz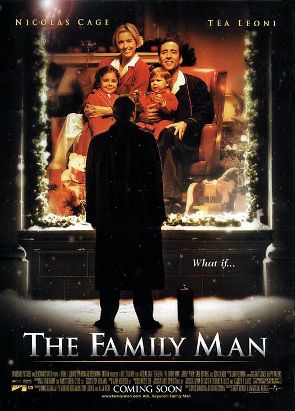 1. The Family Man (2000)
This is definitely one of my favorite Christmas movies. I re-watch it at least once a year, since it always get reruns around the holidays.
It's a twisted version of Charles Dickens' A Christmas Carol, with Nicolas Cage as the guy that in theory has everything that life has to offer: professional success, financial stability, women falling at his feet, and a lot more. And he also believes he has everything he could wish for, until a fateful encounter with destiny (in the form of Don Cheadle) gets him waking up in suburban New Jersey next to his college sweetheart (Téa Leoni, looking gorgeous as ever and absolutely brilliant in her role). Not only is he married, but they also have two children.
This is the perfect "what if?" movie, that will make you stop and wonder about your choices in life, and about wether or not you are really living the life you chose. If you haven't watched it yet, just watch the trailer and let me know if it doesn't make you almost laugh AND cry in just a few minutes. Now imagine that in 2 hours of movie!
Watch "The Family Man"
.
2. Scrooged (1988)
One of my childhood's classics. Bill Murray is brilliant as the heartless TV executive that gets haunted by the three spirits of Christmas, in this yet another retelling of A Christmas Carol.
Watch "Scrooged"
.
3. Miracle on 34th Street (1994)
The happy-feel-good movie of the season for me. My parents, my brother and I will always stop to watch it again whenever is on TV. And I even got my wife to watch it after being very persistent, as she is firmly attached to the original version from 1947 .
It's the story of precocious-and-witty Susan (played by always-adorable Mara Wilson), a little girl who just like her single-mom (Elizabeth Perkins) doesn't believe in Santa Claus. Yet doubt arises in both of their minds when a new department-store Kris Kringle appears claiming to be the real Santa. It is a wonderful movie, perfect to watch with children (or a bunch of grown ups as well :)) and full of life lessons, because as Mr. Kringle put's it: "I'm not just a whimsical figure who wears a charming suit and affects a jolly demeanor. You know, I'm a symbol. I'm a symbol of the human ability to be able to suppress the selfish and hateful tendencies that rule the major part of our lives. If… you can't believe, if you can't accept anything on faith, then you're doomed for a life dominated by doubt."
Watch "Miracle on 34th Street"
.
4. The Polar Express (2004)
Besides being such a lovely story, this film has a special importance for me since I watched it for the first time in an amazing 3D projection along with my now-wife and my now-stepdaughter. The movie itself was great, but even better it was to share this excellent movie about Christmas with my two girls.
"Seeing is believing, but sometimes the most real things in the world are the things we can't see."
Watch "The Polar Express"
.
5. Love Actually (2003)
Good romance, good drama, plenty of laughter and a superb all-star cast. This is a guaranteed choice for the holiday season, certain to please all with its multiple plots and twists.
Watch "Love Actually"
.
6. Die Hard (1988)
How could you possibly survive the holidays without John McClane (Bruce Willis)? Here is one guy, against a whole group of terrorists. But that guy is McClane, so those terrorists better be careful, and you can just sit and enjoy while he gets them one by one. :)
Watch "Die Hard"
.
7. The Nightmare Before Christmas (1993)
Here is a classic that can't be out of a top-10 list for Xmas. This to me is Tim Burton's masterpiece, with a dark-and-scary theme as usual, telling the story of the king of Halloween that is bored with the same routine every year, until he finds out about Christmas and decide to take over that holiday, with disastrous consequences as one would expect. It's one of the best stop motion animations ever made, with delicious musical performances filled with terrific lyrics. Definitely a great Christmas movie for kids and adults alike :)
Buy "The Nightmare Before Christmas"
.
8. Home Alone (1990)
Which kid wouldn't want to be Kevin McCallister (Macaulay Culkin), eat lots of candy, cause all kinds of trouble and even capture two bandits that really picked the wrong house to rob during the holidays? Another excellent holiday classic for the whole family.
Watch "Home Alone"
.
9. The Holiday (2006)
If there is one thing I love, is a movie that delivers more than I expected, and this is definitely the case. When I first went to watch this I thought it would be a perfect-and-silly romantic comedy, but in the end it is a great movie, very funny, with some witty dialogues and with always-divine Kate Winslet and forever-funny Jack Black.
Watch "The Holiday"
.
10. A Christmas Story (1983)
This would not be on my list a few years ago. Growing up in Brazil, this movie was not part of any traditions and I actually do not remember ever seeing it air on TV over there. But since this is my wife's favorite movie for the holidays, now it is a must at my house around this time of the year. :)
Watch "A Christmas Story"
.
Honorable Mention: Gremlins (1984)
3 very simple rules that should be followed when taking care of a cute new pet, which obviously are not followed and result in complete chaos for a small town. I still remember watching it as a kid, and how much I thought it was weird, scary, funny, cute (the pet pre-monsters) and creepy all at the same time. My favorite scene? The interpretation of "New York, New York" by the gremlins, of course!
Buy "Gremlins"
.
We hope you've enjoyed our Christmas movies list. We know all lists are subjective. You may have an entirely different list of Christmas movies you watch each Christmas season. If so, please list your favorite Christmas films in the comments section below. We'd love to read them and others will see your list and have even more Christmas films to choose from.
.
Other Pizzaspotz Posts You Might Enjoy:
Comments
comments