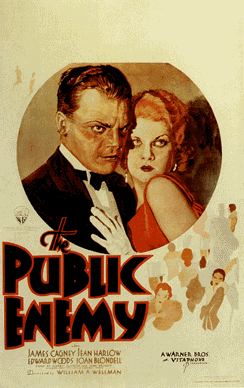 Created by the PizzaSpotz.com staff
Create your own list
Here's our top ten favorite gangster movies to watch while eating pizza. We'll start with #10 and proceed to #1. If you have experienced any of these gangster movies or have a favorite gangster movie not listed here, please visit our Facebook page and write about your favorite gangster movies or list them in the comments.
10. White Heat (1949)
In his last role as a heartless gangster, James Cagney embarks on the prison break of a lifetime in this chilling tale that features one of the most riveting finales in movie history.
9. Carlito's Way (1993)
Al Pacino cuts a noble figure in this very enjoyable drama by director Brian De Palma (Scarface), based on a pair of books by Edwin Torres. Pacino plays a Puerto Rican ex-con trying hard to go straight, but going straight isn't so easy.
8. The Untouchables (1987)
This classic confrontation between good and evil and stars Kevin Costner as federal agent Eliot Ness, Robert De Niro as gangland kingpin Al Capone and Sean Connery as Malone, the cop who teaches Ness how to beat the mob: shoot fast and shoot first.
7. Miller's Crossing (1990)
Leo is the benevolent Irish gangster and political boss who rules an Easter city with the help of Tom, his trusted lieutenant and counselor. But their control of the town is challenged by an over-reaching Italian underboss and his ruthless henchman.
6. The Public Enemy (1931)
Cagney delivers one of the most famous performances in film history as the snarling crook who–in one of the film's most famous scenes–smashes a grapefruit into the face of Mae Clarke.
5. Casino (1995)
Set in the 1970s and reveling in the minute details of how Las Vegas casinos operate, the film chronicles the rise and fall of casino manager Ace Rothstein (Robert De Niro).
4. The Krays (1990)
Ronald and Reggie Kray were Britain's most notorious gang leaders. Their reign over London's East End was a sinister story of extortion, fraud and murder which remained untold for years as a result of their power.
3. Scarface (1983)
When this gangster movie was released in 1983, it was notorious, not so much for the blood and guts but for the use of the "F" word about 180 times.
2. The Godfather (all of them)
Just about the greatest gangster movies of all time. No more needs to be said about the Godfather series.

And finally…….
1. Goodfellas
The gangster movie at the top of our list (or bottom if you want to look at it that way) was named 1990′s best film by the New York, Los Angeles and National Society of Film Critics. And it earned six Academy Award nominations, including Best Picture and Best Director.

How's that for a list of gangster movies. Of all the lists of gangster movies I've seen floating around the internet, I've not seen THE KRAYS on any of them. I think you'll like it if you haven't seen it yet.
What movies should be on this list? And while you're at it, let us know what pizzeria you frequent most often?

.
Other Pizzaspotz Posts You Might Enjoy: