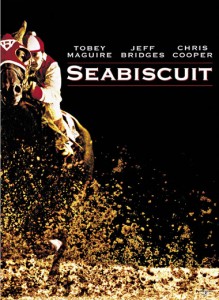 There's not much better film entertainment anyone can find than watching a good horse racing film. For the most part, these films have very good moral lessons without being preachy and number one in our horse racing movies list has a quote that all people everywhere should live by.
After reading our list, please let us know if you agree or if we've left off a seriously good film. We'd love to read about your favorite horse racing movies too. Leave your favorites in the comment section below and let us know what position you'd put your favorite into our list.
Thanks!
10. Hidalgo
If you ever wondered what happened to Omar Sharif after Doctor Zhivago, here he is in a 2004 film about a horse named Hidalgo. This is the story of an American long distance rider who races Bedouins across the desert in Arabia in 1891. Great adventure film.
9. Casey's Shadow
Based on the short story "Ruidoso" (1974) by John McPhee, Walter Matthau plays Casey, a down on his luck horse trainer who puts all his hopes on a two year old colt at Ruidoso Downs in New Mexico. A great family film, but rarely is there a horse racing movie that isn't family friendly. Just look at the rest of the list to see that rule of thumb in action.
8. Champions
A movie about courage and triumph, Champions tells the story of steeple race jockey Bob Champion who is diagnosed with cancer in the late 1970s. He doesn't lose his life to this battle with cancer and in 1981 becomes a champion while racing on Aldaniti in the Grand National steeple chase. A powerful film that many of you may say should be much higher on our list.
7. The Black Stallion
This is an absolutely amazing story. A young boy and his father are sailing to England in 1946. On board the ship is a black Arabian stallion the boy sees is being mistreated. While off the coast of Africa the ship sinks in a violent storm. Only the boy and the horse survive as they both reach a deserted island. They become the closest of friends and are eventually rescued. The rest of the movie is focused on training and racing and a continued look at the friendship of a boy and his horse.
6. Secretariat
Secretariat was too small to win, or so said all the handicappers and other horse racing experts. But Secretariat proved everyone wrong. In 1973, the United States was enduring tough times, a presidential scandal, the near end of the Vietnam War and a cultural revolution in our streets and universities. The country was lifted up as they watched an underdog win the biggest races in the horse racing world. Everyone loves to cheer for an underdog, especially when times are tough.
5. National Velvet
A girl, a horse and a former jockey. That cast makes this sound like many a horse film, but this is one of the best ever made horse racing movies. Elizabeth Taylor wins her horse "The Pie" in a raffle. That in itself is a great story, but eventually, she gets Mickey Rooney (Mi) to train her and the horse for the Grand National steeplechase. No one thinks the horse can win, even the jockey they have for the race. Needless to say, that jockey doesn't ride "The Pie" in the Grand Nationals. Any guesses on who races? Most of you have probably seen this film, but for those who haven't, you'll love the ending of this movie.
4. A Day at the Races
A sanitarium is going out of business. A radio singer buys a race horse instead of vocal lessons which will help his career. There's a veterinarian named Hackenbush. Sounds like a great horse racing movie to me. This is a classic Marx Brothers film and Hi Hat is the name of the horse the hopes of a sanitarium are riding on. This is a must see film although it's not what most people would consider a classic horse racing film.
3. Let it Ride
Richard Dreyfuss stars in what many say is the most realistic film about horse racing. Not only is it realistic but funny too. As you can tell from the title, this 1989 film focuses a lot on the life of the gambler at the track.
2. Phar Lap
Phar Lap, collapses and dies in his trainer's arms at a California race track in 1932. After this occurs in the film, the rest of the story of Phar Lap is seen in flashback scenes. Phar Lap won 22 stakes races between 1928-1932. Sometime during Phar Lap's string of successes, someone tried shooting Phar Lap. In America, Phar Lap was believed to have been poisoned. This is the story of a wonderfully gifted horse and its tragic death.
And #1 in our "Top Ten Horse Racing Movies" list is….
1. Seabiscuit
Inspiring in many different ways, this movie is about a down and out horse who makes good in life and his trainer Tom Smith is quite similar in many aspects. In a veiled reference to himself, Tom Smith talks at one point about Seabiscuit and his being a bit crippled. "You don't throw away a whole life just because it's a little banged up." After that quote, Tom Smith and Seabiscuit both thrive. This is absolutely the best horse racing movie ever (in our humble pizza addled opinion).
.
Other Pizzaspotz Posts You Might Enjoy: