From our staff, these are the top ten politicians to share a pizza with. Your opinion may differ on who the top ten politicians should be. . Please visit our facebook page and create a list of the top ten politicians you would want to share a pizza with. Remember, one of the only ways to have a chance to win a free large pizza, is to create a pizza list.
Love or hate our top ten politicians, if you have a chance to share a pizza with them, you never know, your opinion of them may change.
Here's the list:
Top Ten Politicians To Share a Pizza With…
10. President George W. Bush (R)

Here's your chance to ask President Bush why he did the things he did while president. Why war? Why lower taxes? Why bail out the banks?
9. Governor Ed Rendel (D)

Here's a guy with an opinion who was mayor of Philly and governor of Pennsylvania. He's sure to know where to get a great slice.
8. Senator Marco Rubio (R)

A great man who WILL be our first Hispanic president. Maybe not until 2020, but I can wait. He is one politically savvy man of Cuban descent. The product of hard working parents and a man with a plan to get America working again.
7. Governor Rod Blagojevich (D)

After sharing a pizza with Rod, maybe we can go sing some Elvis karaoke. Well, after he gets out of prison.
6. Representative Gabrielle Giffords (D)

Her heroic comeback to Congress is something to be talked about over pizza. I'd also like to know what she thinks of Joe Biden. (keep reading the list to find out why I'd ask her that.)
5. Governor Chris Christie (R)

I wouldn't necessarily have to eat pizza with Gov. Christie to have a good time. I could just watch some of his press conferences on youtube. That way, I'd be able to eat more pizza. I'm afraid he'd not leave me a piece if we sat down together to eat.
4. Representative John Campbell (R)

John endures some ribbing from talk show host Hugh Hewitt every Friday. He's a USC grad who loves cars. While eating a pizza with John, I think we'd talk about how lousy the Cleveland Browns are this year or any year.
3. Governor Rick Perry (R)

This guy tells it how it is. He also may be the next president of the United States. It'd be great to pick his brain. and find out how his state of Texas has created half the jobs created in America over the past few years. He's a job creating machine!
2. Governor Sarah Palin (R)

Who wouldn't want to eat some pizza with Sarah Palin? Of course, you may want to use your fingers while she eats it with a fork, like she did with Donald Trump. Nevertheless, she's an amazing woman with strong opinions and she's a hunter and so much more. Love her or hate her. She's got to be on your list of top ten politicians to share a pizza with. And she's almost at the top of ours.
And finally, here is number one in our list of top ten politicians to share a pizza with…
1. Vice-President Joe Biden (D)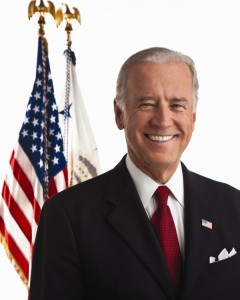 Any man who would welcome back a shooting victim to congress by saying they are now a member of the cracked head club like himself and a man who invites a local politician to be recognized by saying, "Stand up Chuck, stand up….Oh God, you're in a wheel chair… everybody, stand up for Chuck," must be a man who would be great to share a pizza with. These and his many other gaffes are why Joe Biden is number one in our top ten politicians to share a pizza with.

Don't forget to visit our facebook page and tell us your top ten politicians to share a pizza with. We want to hear from you.

Make your list as unusual or typical as you want. For example, make a list of the top ten liberal politicians to share a pizza with… or top ten sexually addicted politicians to share a pizza with … if you dare or some variation of these ideas. It's all up to you.


.
Other Pizzaspotz Posts You Might Enjoy: