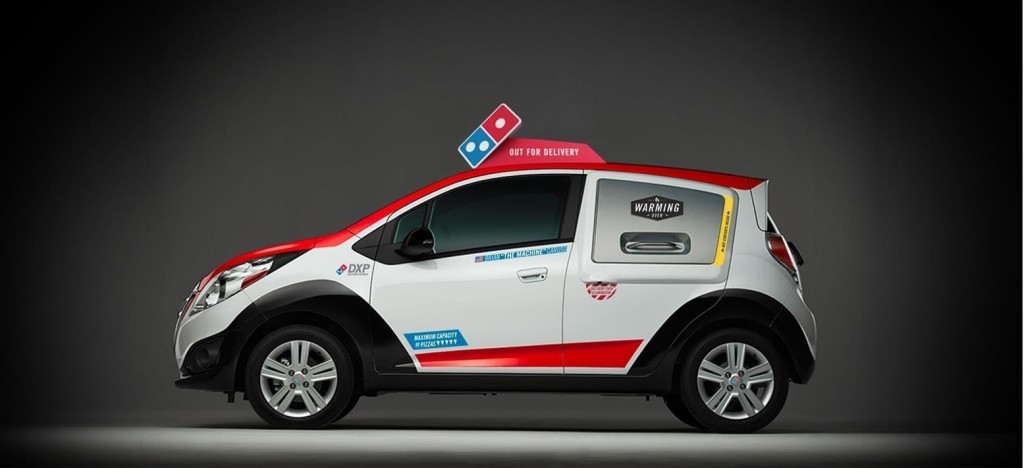 I love great PR campaigns and when I first saw the ads on TV for the Domino's DXP delivery vehicles last year, I thought it was a publicity stunt. "Oh yeah," I thouhgt. "There'll make a couple of those cars and have them travel throughout the country and people will see a pizza delivery vehicle. But my son, he argued that it was real but I insisted that it wasn't real until I saw one driving around delivering pizzas in our neighborhood.
Okay, I've still not seen one of these Dominos DXP delivery vehicles delivering pizzas on our street, but I guess since I saw the news of a new batch of the DXP vehicles, that they must be real.
The news is this, Domino's Pizza will bring 58 additional DXPs to 23 markets in the United States. Adding tho those rolled out last year, this will bring the total Dominos DXP Delivery Vehicles to a whopping 155. No wonder I haven't seen one in my neighborhood. They're even more rare than a good Domino's pizza (No, I'm not a fan of Domino's pizzas).
However, I do applaud great publicity and this is exactly what it is. But the DXP delivery vehicle also has some cool features that beat up 1995 Honda Accords or dented up 1998 Buick Centurys don't deliver. Delivery for Dominos isn't Uber and nice new cars need not apply.
Check out what comes in these Dominos DXP Delivery Vehicles:
1) a built-in warming oven
2) an interior that can hold up to 80 pizzas (I could only get 30-40 in my old Accord)
3) a special compartment to hold sodas and other food items
Plus, it looks cool.
If you want to some behind the seens footage on how the car was designed, check out dominosdxp.com.
.
Other Pizzaspotz Posts You Might Enjoy:
Comments
comments