Here at PizzaSpotz.com, we love pizza. Yes, we promote pizzerias all over the United States, but there are some great pizzas to made at home. From time to time, we will publish a great pizza recipe you should try at home.
Golda makes pizza and in 2010 made a great New Year's Resolution. Well, before we get to her radish pizza recipe. Check out what she has to say about her website The Weekly Pizza
In 2010, I made a New Year's resolution to eat more pizza. After having successfully kept a resolution for the first time in my life, I decided to expand on it in 2011 by making a different pizza each week. My blog chronicles the successes and failures of my pizza adventures.
Now, onto Golda's Radish Pizza Recipe:
Radish pizza. Can't say I've ever had this one before today. I never even really ate radishes until last year when I bought a bag of them because they were on sale. Then we got some in our CSA box. I never knew what to do with them, besides put them in salads, so that is how we ate them.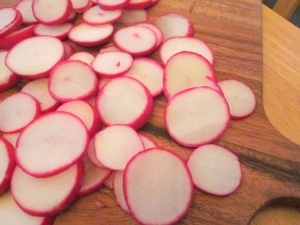 For this pizza, I used the last ball of dough from my NY Style pizza. I topped it with some olive oil, thinly sliced radishes, salt, freshly ground pepper, and Parmesan cheese.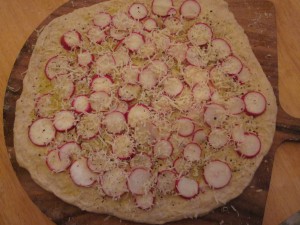 I cooked it for about 10 minutes at 475 F.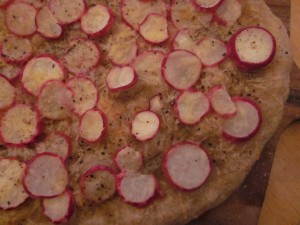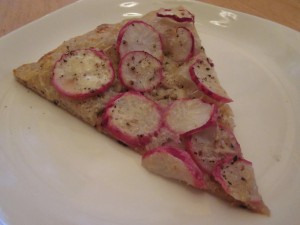 I was pleasantly surprised with how much I liked this pizza. Even the non-radish loving husband said it was good. The flavors were simple, but complemented each other well. I really liked the ground pepper on it. This is something I'd make again if I have a bunch of radishes.
Thanks for checking out Golda's Pizza Recipe. Please let me know if you try it. Now it's your turn to share your favorite pizza recipe. If you have a pizza recipe you think is out of this world or just plain interesting, please allow us to share it with our readers. We'll add a blurb about your website and include a link too.
.
Other Pizzaspotz Posts You Might Enjoy: