.
Description: Mellow Mushroom has been providing the world with great pizza, hoagies, calzones and salads since 1974.
About Mellow Mushroom in Kennesaw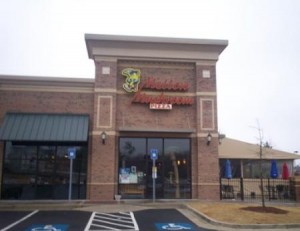 Mellow Mushroom has been serving great pizza to its customers since 1974 but this isn't your traditional pizzeria. Lifelong fans of Mellow Mushroom will say that's a good thing. Not only do you have traditional pizza offerings, they now offer gluten-free build your own pizzas and Mellow Mushroom even has some vegan offerings. They offer wifi to help make your life easier. There's unique artwork in the Kennesaw location not seen anywhere else. You can even shop for clothing at the store, no more going to Walmart for your shirts. And if you want, you can show the world how much useless information you have in your brain on Trivia Nights.
Visit Mellow Mushroom Online
Visit the Kennesaw Mellow Mushroom Website

— >

Click Here

Follow on Twitter

Like on Facebook
.
Order Online to Make a Difference
When you order online through this link, we at PizzaSpotz will send a % of the sale proceeds to the Himalayan Cataract Project. You can help the blind see or prevent blindness in Buddhist countries like Bhutan, Tibet and Nepal.
.
More Mellow Mushroom FAQs
What should I wear when visiting Mellow Mushroom? (dress casual)
How much will eating here cost me? ($$)
Do they serve Alcohol? (full bar)
Does Mellow Mushroom Deliver? (no)
Wi-Fi Availability (yes)
Find Mellow Mushroom in Kennesaw
[mappress mapid="28″]
1133 Chastain Rd
Kennesaw, GA 30144
Phone & Hours
770.426.9900
Hours:
Monday thru Thursday, Sunday 11:00 am to 10:00 pm
Friday & Saturday 11:00 am to 11:00 pm
Eaten at Mellow Mushroom in Kennesaw? Leave a review in the comments section below. Thanks!
.
Other Pizzaspotz Posts You Might Enjoy:
Comments
comments