The International Pizza Expo is brought to you by Pizza Today Magazine,
the leading pizza industry publication.
.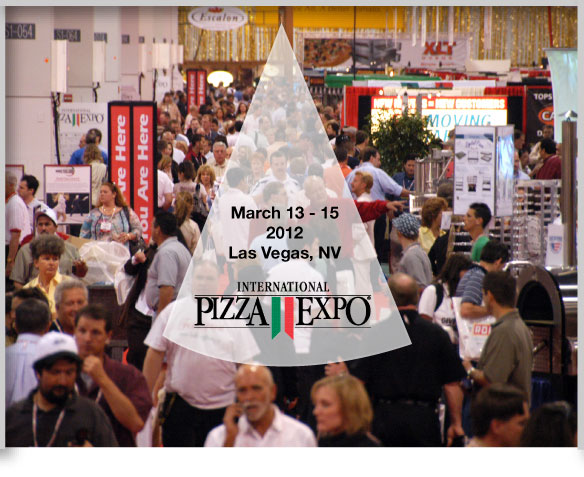 If you are reading this while in Las Vegas, you must be a pizza industry pro. If you're in the pizza industry and not yet in Las Vegas, there's still time to get there for one of two options, the three day badge for $199 (online registration is closed) or a one day badge for Thursday at $79. Both of these prices are bargains for the amount of pizza information you will receive, the number of contacts you will make and the entertainment you will be shown via the World Pizza Olympics.
If you've never been to a Pizza Expo in Vegas before, here is just a little of what you will experience:
* A hall the size of 5.5 football fields filled with pizza exhibits
* Pizza making demonstrations
* The World Pizza Games (pizza spinning, pizza stretching, pizza box making contests)
* The Sixth Annual International Pizza Challenge
….. and much much more.
Free and Discount Offers for Pizza Expo Attendees
Free Social Media/Website Critique ($79 value) – Social media is simple, but not as simple as some website companies may tell you. You've heard their schpeel, "Social media, yeah, we'll provide you with a Twitter account and Facebook business page when we create your pizzeria website. No extra money for that and we'll automate it too, since you'll be too busy making pizzas."
Don't believe that hype. An effective pizzeria Twitter account is so much more than repeating tweets of interesting quotes, your daily lunch specials and not replying to people who tweet you. If that's all your Twitter account consists of, it is a Twitter fail. Our free social media critique will help you engage better with your customers and help you create repeat customers who may even become your own personal PR firm. Not much sells pizza better than word of mouth, especially a Twitter mouth. Email (Brian at pizzaspotz dot com) (copy, paste and remove the spaces) to get your free social media critique started today.
This critique focuses on social media, but we will also browse your website to make sure you have no glaring marketing errors and to suggest areas where it could be improved.
Discount Ads on PizzaSpotz.com – There are many ways you can advertise on PizzaSpotz.com. For a limited time, we're offering extremely discounted ads only for Pizza Expo attendees. Advertise on one of our fun pizza lists or on one of our state or city pizza directories. You can even create your own content here on PizzaSpotz and sponsor that list. It's all up to you.
Free Publicity on PizzaSpotz.com
Since you spent the money on the International Pizza Expo this year, PizzaSpotz knows you care about your business. Your desire is to sell more pizzas and here's another way to get your business name out before the pizza eating public. Free publicity on PizzaSpotz.com comes in a number of different ways.
* Get your customers to tweet about your pizzeria. We'll create a free pizza tweet review.
* Encourage your customers to make a fun pizza list (your website link and pizzeria blurb included).
* You can write a helpful post about pizza geared toward customers (website link and blurb about your pizzeria included)
* We can interview you about your pizzeria. That's a lot of promotion right there if you have an interesting story.
Contact Us
Need more info? Use the email address above or send us an email through the contact page.
If You're In Vegas Right Now
Leave a comment below and give a shout out to the workers back home. Or just tell us how much fun you're having at the International Pizza Expo in Las Vegas. Next year, we've got to get a booth!
.
Other Pizzaspotz Posts You Might Enjoy: