Written by Brian of the PizzaSpotz Staff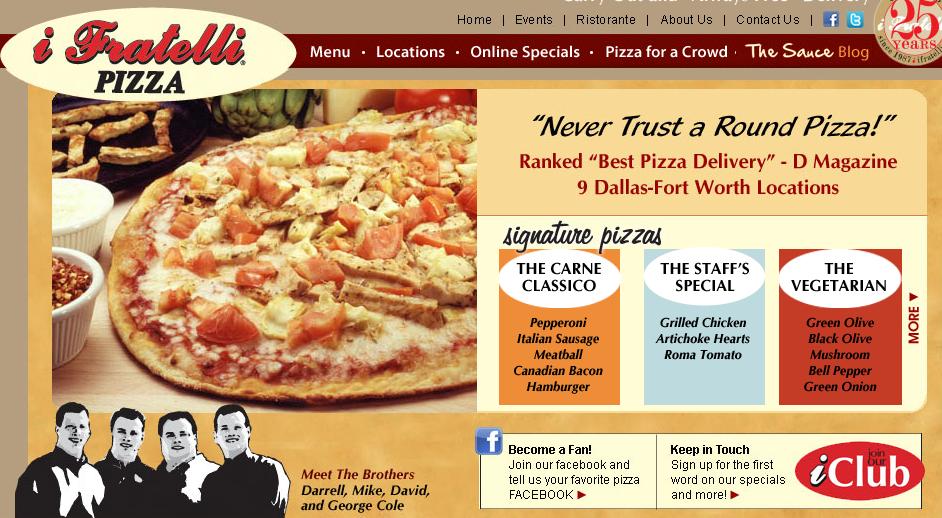 Pizza People Doing Good
In any endeavor I undertake, I always look for a way to add value or do good. That work can be with an individual, a small business or in a community. Because that's how I am wired, I can spot a good work a mile away. Co-incidentally, i Fratelli Pizza, a chain of pizerias noted for having the best delivery service in the Dallas-Ft. Worth area, opened their first store in 1987 less than one mile away from where I'm typing up this post.
Ever since 1987, when the Cole brothers opened i Fratelli Pizza, the restaurant and its owners have been active in the community. This activity was first seen in their sponsoring local Irving sports teams, involvement in the chamber of commerce and in their local church/parish among other groups and activities. This giving attitde of the Cole brothers eventually led to the creation of the iFratelli Pizza DoughNation program.
"We began the DoughNation program in February of 2012. One of the first organizations we helped was the Irving Symphony League. We like to provide support to local organizations of that type, including non-profits, churches and schools. We have also supported national groups such as the Leukemia and Lymphoma Society and one of our dearest causes is supporting local animal shelters. We're gearing up for a month-long promotion sponsoring shelters and rescue centers as part of our October Smooch Your Pooch celebration." said i Fratelli co-founder David Cole
Getting Customers Involved
One of the best features of the i Fratelli DoughNation program is how it gives customers a chance to get into the act of giving. It is i Fratelli customers who nominate non-profit organizations to participate in the program. i Fratelli partners with the organization or group nominated and finds a date which works best for them. Fifteen percent of proceeds on their sponsorship date will go back to the organization in the form of a direct monetary donation. The more excitement and energy built up by the sponsored group, the bigger the payoff.
The i Fratelli Pizza chain has many locations thorughout the Dallas-Ft. Worth Metroplex. Each location has its own customer nominated non-profit or good work. There are times when more than one store supports the same cause. The following are just some of the causes sponsored by i Fratelli stores during 2012. Water is Basic, which provides clean drinking water for South Sudan was nominated by a customer of the i Fratelli locations serving Las Colinas/Irving/Valley Ranch. The Flower Mound store has supported the Flower Mound High School Rosettes, helping them pay for costumes and out of state trip expenses. The Uptown/Park Cities location has helped Community Partners of Dallas which provides resources and support to case workers of the Dallas County Child Protective Services.
As you can tell by the above mentioned non-profits and good works, the variety of organizations near and dear to the hearts of i Fratelli customers is as varied as the number of toppings available for their artisan pizzas.
Pizzerias Can Benefit Too
For pizza makers reading this who may want to implement such a community involvement program, but are wary of the cost to their bottom line, here are some words of wisdom from David Cole: "As restaurateurs, we are a part of the service industry. We should be involved in service in all aspects of our lives. We should constantly serve outside the doors of our establishments and be active in the community. One of the best ways we have found to participate is the donation of product (as opposed to dollars). When the donation is an emotional one, and prospective customers get to smell and taste your product, then it may be that every time they have that emotion they will think of you and the return on investment will be there…Our Pizza DoughNation program is designed to be activated through social media specifically. It is just one aspect of our marketing strategy. Because it is tied in with our Facebook and Twitter strategies, we decided to offer the monetary donation to provide incentive to participants. It is our desire that as a result i Fratelli is being experienced by individuals beyond our regular customer base and expanding the knowledge of our company."
What do our PizzaSpotz readers think about the i Fratelli DoughNation prgoram? Have you seen similar programs in your area? If you own a pizzeria, please share some of your own experiences of giving back to the community.

.
Other Pizzaspotz Posts You Might Enjoy:
Comments
comments