by Brian of the PizzaSpotz staff
As usual, we've created a top ten list with pizza in the title. But I doubt any golfers who play these top ten golf courses have pizza on their mind when they finish a round. Anyway, we still wanted to put this together a golf course list, and we've done so. Enjoy.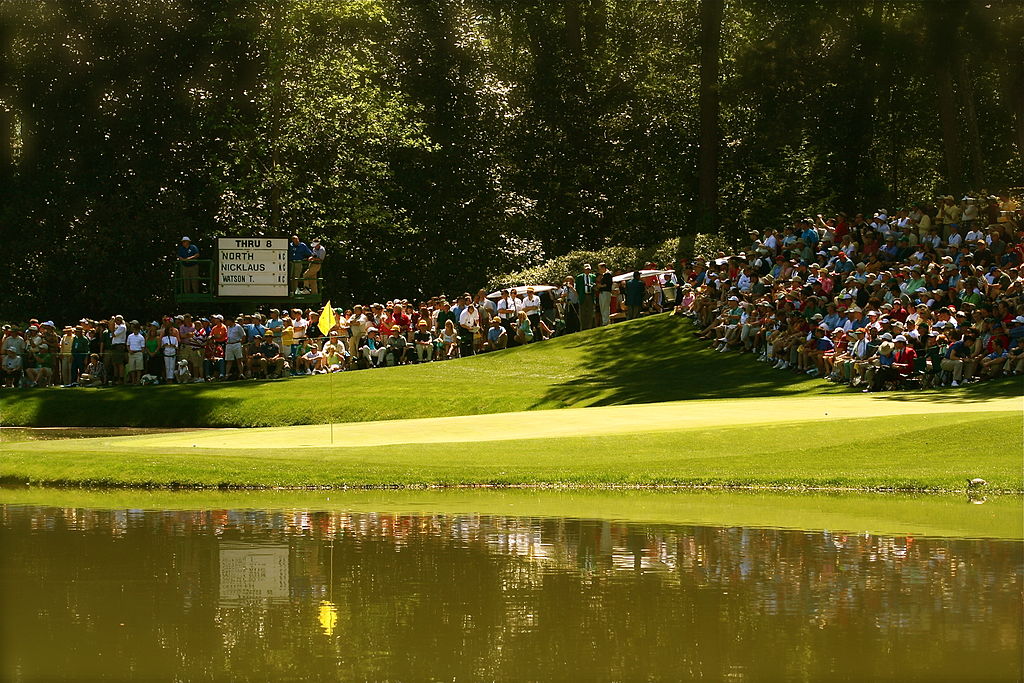 #5 On Our List – Augusta National Golf Club
CC 2.9 licensed photo by PocketWiley
.
10. Royal Melbourne Golf Club
The Royal Melbourne Golf Club is Australia's oldest and most prestigious golf club and is ranked in many publications and golf club ranking bodies as the #1 golf course in Australia. It makes our list at number ten. The Royal Melbourne Golf Club was built in 1891, designed by Alister MacKenzie (east course) Alex Russel (west course) and has a total length of 6594 yards. It is located in the Melbourne suburb of Sandringham.
Built: 1891
Designed by Alister MacKenzie/Alex Russel
Length: 6594 yards
9. Muirfield Village Golf Club
The Muirfield Village Golf Club opened in 1974. Two years later it began hosting the nationally known Memorial Tournament. It is a par 72 course but in 1996, John Huston shot a course record 61. It makes our top ten golf courses in the world list at number ten. The Royal Melbourne Golf Club was built in 1891, designed by Jack Nicklaus and has a total length of 7337 yards. It is located in the Columbus, Ohio suburb of Dublin.
Built: 1974
Designed by Jack Nicklaus
Length: 6594 yards
8. National Golf Links of America
The National Golf Links of America has been called snooty. Is this really true. If you're a member, I guess you won't admit that. It has not hosted a major tournament since the Walker Cup in 1922. The National Golf Links is scheduled to host the 2013 Walker Cup. If you're unsure of why this golf course is called National Golf Links of America, it's because its founding 67 members lived in various areas of the United States. The course is located in Southampton, NY on Long Island. It is adjacent to both Shinnecock Hills Golf Club and Sebonack Golf Club.
Built: 1911
Designed by Charles Blair Macdonald
Length: 6,873 yards
7. Royal County Down Golf Club
Located in Newcastle, County Down, Northern Ireland, the Royal County Down Golf Club is one of the oldest in Ireland. Royal County Down Golf Club consists of two courses, the Championship Course (7204 yards) and the Annesley Links (4,617 yards). Both the fourth and the ninth holes are among some of the best in the world. It is said that Old Tom Morris designed this course for the price of four guineas. This may have been about 4 British pounds or it could have been four old gold coins. Either way, the County Down got quite a bargain from a master designer.
Built: 1889
Designed by Old Tom Morris; George Combe; Harry Vardon; Harry Colt
Length: 7,204 yards
6. Shinnecock Hills Golf Club
Shinnecock Hills Golf Club is one of the most noted American golf courses. It is on the the National Register of Historic Places, the club allowed African-American John Shippen to play in the second U.S. Open in 1896, even when many players threatened to boycott the Open. The club also claims to be the oldest organized golf club in America and has the oldest clubhouse. The club is also built on land the Shinnecock Indian tribe claims is its tribal burial grounds. Yes, a suit is being litigated. This course is definitely one of the most prestigious American courses in our list of top ten golf courses in the world.
Built: 1891
Designed by Willie Dunn
Length: 6996 yards
5. Augusta National Golf Club
Founded in 1933 by Bobby Jones and Clifford Roberts, The Augusta National Golf Club has hosted the Masters since 1934. It is the only major championship to be hosted annually at the same golf club. August has its traditions, a green coat is awarded to the winner of each Masters Tournament.This has been a tradition since 1949. It also has a tradition of being a male only private golf club. Controversy has arisen from time to time because of this, but as former chairman Hootie Johnson said at the time, the issue had to do with the rights of any private club, not about sexism. He was absolutely correct.
Built: 1933
Designed by Alister MacKenzie (little of his design is left today)
Length: 7435 yards
4. Pebble Beach Golf Links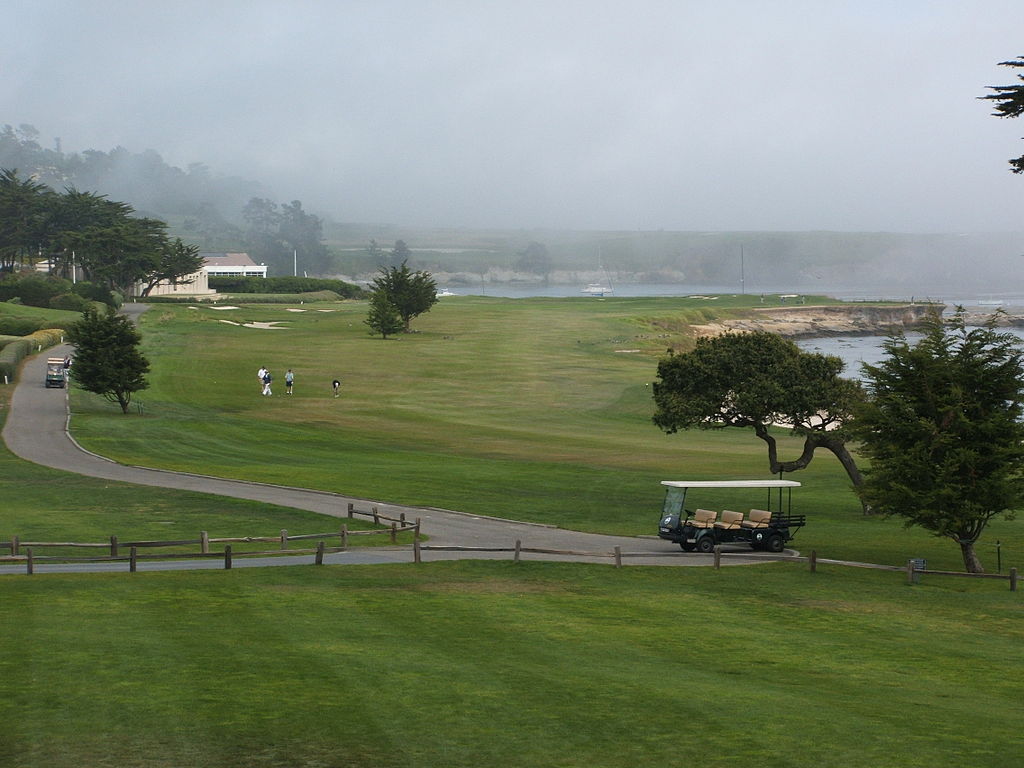 Photo by Tewy – CC SA 3.0 license
.
Unlike many of the elite golf clubs in America, Pebble beach is open to the public. The greens fees are quite expensive. As of this writing, they are $495. The course is one of the most beautiful in the world. Cypress Point probably rivals it in beauty but then Cypress Point is just down the coast. After being sold to a Japanese consortium in which one member had ties to organized crime in Japan, the Pebble Beach Company bought the links in the summer of 1999. The company also owns three other local courses including Spyglass Hill. Arnold Palmer, Clint Eastwood and Peter Ueberroth are among those who own the Pebble Beach Company.
Built: 1919
Designed by Jack Neville and Douglas
Length: 6594 yards
3. St. Andrews Old Course, Scotland
One of the most favorite and storied courses for golf lovers all over the world. Although documents from the time of King James IV say he bought golf clubs at St. Andrews in 1506. The generally agreed date to when St. Andrews was established is 1552. The St. Andrews Old Course is open to the golf playing public. If you can take your clubs to England, you're able to play the course, except on Sunday. On Sundays, the course is allowed to rest and on occasional Sundays, townspeople are allowed to stroll the grounds, have picnics and more.
Built: 1552 (or earlier)
Designer: Unknown
Length: 6387 yards
2. Pine Valley Golf Club
The Pine valley Golf Club in southern New Jersey is known in the world of golf as having the best collection of par threes and par fives in golf. It is a challenge to all golfers who are blessed to tee up at this private club. There are a little over 900 members of Pine Valley spread throughout the world. Only men are allowed to join and new members are invited by the board of directors. Guests must be invited by and accompanied by a member of the club. One interesting thing about the club is that Pine Valley Golf Club has never played host to a major tournament. In many top ten lists, Pine Valley Golf Club is ranked #1, but without room for tens of thousands of spectators, Pine Valley cannot host a major tournament.
Built: 1913
Designed by George Arthur Crump, Harry Colt, Charles Hugh Alison, A. W. Tillinghast, Perry Maxwell
Length: 7057 yards (championship) 6532 yards (regular)
And finally…. it is now time for number one in our lit of top ten golf courses in the world to shoot 18 holes on before going out for pizza.
1. Cypress Point Golf Club
If you're looking for a course that has beauty, excitement, history and some of the best holes in the world, look no further than Cypress Point. Designed by Alister MacKenzie, this course includes the might 15th, 16th and 17th holes that any golfer who loves a challenge wants to play. The most amazing of these in our opinion the 16th hole which requires a tee shot over the Pacific Ocean in order to hit the green. When it comes to beauty, there may never be another course built in America to match the breath taking views of Cypress Point.
Built: 1928
Designed by Alister MacKenzie
Length: 6524 yards
Your Thoughts Wanted
If you have played on any of our Top Ten Golf Courses in the World, please let us know a bit about your experience. Even if you only fantasize about playing these courses, we want to hear from you. We'd also welcome your photos to fill in the courses we have no photos for. While you're commenting, tell us about your favorite pizzeria or favorite type of pizza.
Thanks for reading,
Brian of the PizzaSpotz.com Staff
.
Other Pizzaspotz Posts You Might Enjoy:
Comments
comments