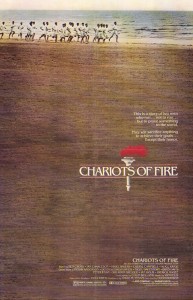 The 2012 Summer Olympics are almost here. There will be many records broken. Some athletes we've grown to love over a few different Olympics will be making their last appearance before retirement. Underdogs will win unexpected races and new heroes will be ushered in to grace the cover of Wheaties boxes everywhere. This is an Olympic year and we figured a list of the best Olympics movies ever would be appropriate. Please leave a comment below if we've left off one of your favorite Olympics movies.
Thanks,
Brian from PizzaSpotz
.
10) The Jesse Owens Story
No list of Olympics movies could be complete if the story of one of the greatest Olympic athletes of all time was not included. I remember watching this in 1984 when it came out. Not sure it was around the time of the Olympics, but it was amazing to watch history, even it was only through a made for TV movie. Dorian Harewood does a splendid job as Jesse Owens. If you aren't old enough to remember, it was Jesse Owens who went to the 1936 Olympics in Berlin, Germany to show the world that Hitler and his belief in Aryan supremacy was a myth. Jesse Owens defeated all of Hitler's athletes. Owens won four gold medals as the world cheered him on.
9) International Velvet
Sequels do not usually make it into a top ten list, but this sequel to National Velvet has accomplished the feat. Staring Tatum O'Neal, International Velvet is a story of an orphan girl who goes to live with her Aunt Velvet Brown in England. There's more of a story here than just a quest for the Olympics. Whether you love horse movies or not, you'll enjoy this family film.
8 ) Ice Castles
While there are a few different tear-jerkers on this list, Ice Castles may just cause you to use the most tissues. An ice skating film about a up and coming competitive skater who faces a most devastating obstacle, not only to her chances to go to the Olympics, but an obstacle to a normal life. Alexis Winston (Lynn Holly-Johnson) battles back from all odds to continue pursuing her dreams.
7) American Anthem
A young gymnast pursues his dreams of competing at the Summer Olympics. He gives up his dream and then a girl enters the mix. That's when there's some soul searching on the part of Steve (Mitch Gaylord). The interesting part of the movie is that Mitch Gaylord led the United States 1984 gold medal gymnastics team in Los Angeles. He then began acting and doing stunts, most notably, he did stunts for Chris O'Donnell in Batman and Robin.
6) Prefontaine
One of the best parts of this film which depicts the life of long distance runner Steve Prefontaine is its realistic capture of early 70s culture and style. Made in 1997, I didn't know that when I first watched it. Until making this list, I had always thought it was made in the 1970s. It's a great story of a rebel runner making it to the Munich Olympics. However, tragedy strikes before he can make it back to the next Summer Olympics.
5) The Cutting Edge
One part spoiled brat and one part obnoxious hockey player. That sounds like a winning pairs ice skating team, doesn't it? D.B. Sweeny plays Doug Dorsey a former Olympic hockey team captain who was injured and cannot play professionally. Kate Moseley, a spoiled ice skater is played by Moira Kelly. The first half of this movie doesn't play out like a love story but you'll see in this film that opposites do attract.
4) Cool Runnings
This film is one of the funniest Winter Olympics movies ever made. It is based on the story of the real life Jamacian Bobsled team. John Candy co-stars in this film, one of his last made before his death. Not many people in Calgary take the team seriously, after all, there's not any snow or ice in Jamaica, but some people might just be surprised.
3) Miracle
True stories make the best Olympic movies. The story of Herb Brooks (Kurt Russel), coach of the 1980 USA Olympic hockey team is as inspirational as any miracle recorded in the Bible or elsewhere. After all, the Russian team was invincible or were supposed to be. At a point in history which was basically the peak of the Cold War, America did the impossible, they beat Russia. It was an amazing geo-political moment in sports history.
2) Munich
In 1972, at the Munich Olympics, 11 Isralei athletes were gunned down by terrorists. Steven Spielberg does a brilliant job telling the story of what happened next. A team of five Israelis were tasked with hunting down those responsible for the terror and eliminating them one by one. Some names you'll recognize from this 2005 film are Daniel Craig, Eric Bana and Geoffrey Rush.
Finally, our #1 in our Top Ten Olympics Movies is….
1) Chariots of FIre
This was one of the top grossing films of 1981 and is probably the most popular Olympics themed film ever made. I can't imagine anything ousting this movie from the top spot of Olympics movies in the hearts and minds of millions. If you have yet to see this movie, the basic premise is a competition between the two main characters for a spot on the 1924 British Olympic team. One runner is a Scottish missionary and the other a Jew. Chariots of Fire takes its name from a line of a William Blake poem which was adapted into the hymn Jerusalem and the phrase "chariot of fire" is found in the Old Testament. The movie won four Academy Awards including Best Picture.

What's your favorite Olympics movie of all time? Let us know.
.
Other Pizzaspotz Posts You Might Enjoy: