Description: If you enjoy cooking pizza at home, it's time to move beyond pepperoni and get fancy. Try this chicken alfredo pizza recipe tonight.
TRY This CHICKEN ALFREDO PIZZA Recipe Tonight
Here at PizzaSpotz, we're always looking for the best pizza recipes to share with you. A few weeks ago I came across Bobby's BlogChef website and this amazing chicken alfredo pizza recipe. If you want more pizza recipes, a great variety of pizza recipes, here's a direct link to a search for pizza recipes on his site. Enjoy them and tell Bobby, PizzaSpotz.com sent you his way.
Now, it's time to get ready to use his chicken alfredo pizza recipe… ready, set, go!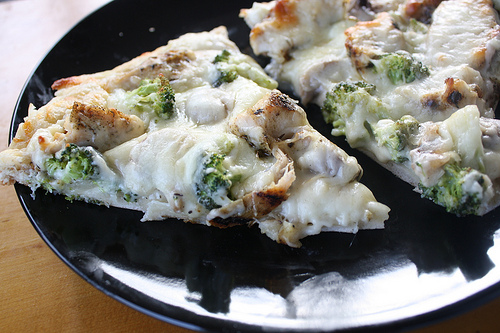 Recipe and Photos by Bobby of BlogChef.net, the recipe blog.
When chicken Alfredo and pizza come together, the combination couldn't get much better. This pizza is a great combination of Italian flavors. If you are looking for something different from your normal pizza this should do the trick. The chicken is well seasoned with seasonings such as rosemary, thyme, garlic power and poultry seasoning. If you are using already cooked chicken you can just toss it with these seasonings. If the chicken is not already cooked I would recommend rubbing it with this seasoning mixture before cooking. In my opinion grilled chicken goes best on this pizza. If you want to save time you can just use store bought Alfredo sauce. I used a store bought crust but you could make your own if you want. The broccoli give this pizza and nice crunch and the mushrooms only add to this fantastic pizza. Even give this one a try for game day! Enjoy.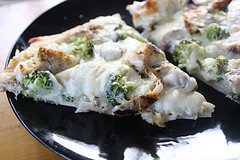 ….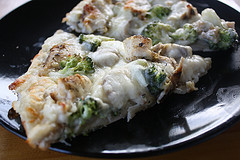 Ingredients:
1 (16 inch) pre-made pizza crust (or box mix or homemade)
1 cup fresh sliced mushrooms
1 cup fresh broccoli florets
1 (8 oz) bag mozzarella cheese
Alfredo Sauce-
4 tablespoons butter
¼ teaspoon salt
1 dash ground black pepper
4 tablespoons flour
1 cup milk
¾ cup grated Romano cheese
Garlic Butter-
2 tablespoons butter
1 garlic clove (minced)
1 pinch dried rosemary
1 pinch salt
Chicken-
2 boneless skinless chicken breast halves
¼ teaspoon dried rosemary
¼ teaspoon thyme
¼ teaspoon poultry seasoning
¼ teaspoon garlic powder
¼ teaspoon salt
Cooking Instructions: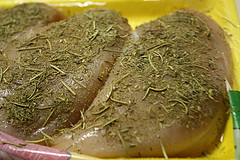 ….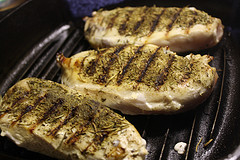 Step 1: 
In a small bowl combine all chicken seasoning ingredients and mix well. Season chicken breasts well on both sides with seasoning mixture. Cook chicken in a grill pan or outdoor grill (or cook it any way you choose). Cook chicken until its fully cooked and cut into small pieces. Set aside.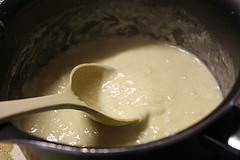 ….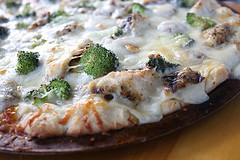 Step 2: To make Alfredo Sauce-  In a small saucepan melt butter over medium heat. Blend in salt, pepper and flour. Stir in milk and Romano cheese. Simmer stirring constantly until the mixture becomes thick. Remove from heat. Cover and set aside.
Step 3: To make garlic butter- In another small sauce pan melt butter. Blend in garlic, salt and rosemary. Cook while stirring constantly until garlic is tender. Remove from heat and set aside for cooling.
Step 4: Pre-heat the oven to 400 degrees (or according to box pizza crust instructions). To assemble pizza- lay out pizza crust on a 16" pizza pan. Spread cooled garlic butter over the entire crust except the edges. Spread on the Alfredo sauce. Top with chicken, mushrooms and broccoli florets. Top with cheese. Bake in the oven at 400 degrees for 20 minutes (or according to box mix directions) or until the crust is browned.
(Makes 4 Servings)
We hope you enjoy this great chicken alfredo pizza recipe. Once you try it, please leave a comment and rating below. And don't forget to visit Bobby at BlogChef.net
.
Other Pizzaspotz Posts You Might Enjoy:
Comments
comments