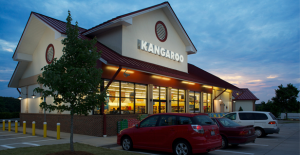 Have you ever wanted to grab a Little Caesars® HOT-N-READY® pizza but you only had time to get gas at Kangaroo Express on the way home? If that has been a problem for you before, don't worry any longer. Kangaroo Express is the leading independent convenience store chain in the southeast and they have now joined with one of the largest pizza operators in America. Kangaroo Express Now offers Little Caesars pizza. Be forewarned, not every Kangaroo Express will offer Little Caesars Pizza, but select stores will and if the sales are brisk, you can be almost certain, this concept will spread to all Kangaroo Express stores.
The HOT-N-READY® items that will be available at Kangaroo Express stores will be the always popular classic original pepperoni and cheese pizzas, Crazy Bread, Caesar Wings and a few more fresh items.
Currently, there are four Kangaroo Express stores who have opened their own Little Caesars restaurant. These stores are located in Hickory, NC and Cornelius, NC, Fruitland, FL and Vicksburg, MS. The next time you fill up on gas at Kangaroo Express, double check to see if you can also fill up your family on some great tasting pizza.
.
Other Pizzaspotz Posts You Might Enjoy:
Comments
comments